müller mobel TB 121 & 126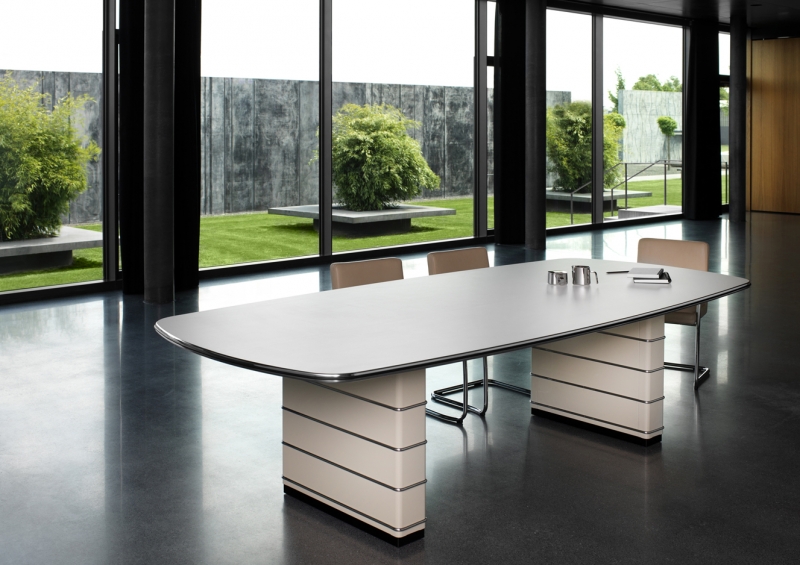 Category: Dining room > Tables
The Classic Line models are an assured statement which goes beyond trends and fashion - elegant, with a clear message, functional and solid. This furniture is durable, including its looks. Our Classic Line for offices, doctors surgeries, private and professional buildings is time-proven through its attractive design and great suitability for everyday use.
DIMENSIONS (mm):
H 750/770 x W 2400/2800/3200x D 1000/1300
Details
The Classic Line conference table is available with (TB 126) or without (TB 121) decorative trims. The boat-shaped worktop is supported by a sturdy frame, to which both of the legs are attached. Up to a length of 3.5 meters the tabletop is manufactured in one piece.
Standard:
Painted in accordance with RAL, glossy finish
Boat-shaped worktop with surface in linoleum (black, grey or light grey)
Depths of worktop availlable: 100 or 95 cm
Widths of worktop availlable: 240, 280 or 320 cm
Worktop mountable either at height 75 cm or 77 cm
Side panel mountable at different positions
Cable outlet in each side panel
Optional:
Semi-matt finish
Worktop surface in Forbo linoleum colours of choice
From £2,380.00
Contact us
to purchase or find out more